The group recently moved to the Center for Discovery and Innovation (CDI) at City College into a ~1000 sq ft lab facility. In addition the group also has access to the newly constructed 3000 sq ft nanofabrication facility at the CUNY Advanced Science Research Center (ASRC). The CDI and ASRC are a set of two new buildings that opened Fall 2014 in the south end of City College.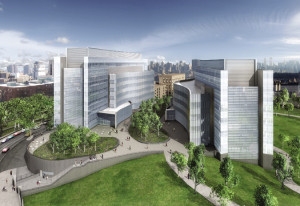 The fabrication facility located in ASRC has state of the art fabrication tools including electron beam lithography (Elionix 100 keV), Focused ion beam etcher, Reactive ion etcher, plasma enhanced chemical vapor deposition, etc. In addition, the PIs group also has access to the cleanroom and characterization facility at the Center for functional Nanomaterials at Brookhaven National Laboratories. Besides the fabrication facilities, the group has the following facilities for modeling and characterization:
Modeling:
Finite Difference Time Domain Simulation software
COMSOL Multiphysics
Other in house developed simulation tools for designing photonic structures.
Characterization:
High resolution spectrometer (IHR 320) with LN2 cooled detector (Symphony CCD array)
Time Correlated Single Photon Counting System (TCSPC) with multiwavelength pump laser
Near Field Scanning Optical Microscope with Atomic Force Microscopy capability.
Fourier-space imaging set up consisting of Olympus microscope and high NA objectives
Tunable femtosecond fiber laser (480 – 650 nm) – Toptica (under order – April 2015).
Argon Ion Laser (488 nm)
NdYAG Laser with second and third harmonic
HeCd Laser (325 nm)
Femtosecond near infrared fiber laser (1550 nm)
Tunable laser (C + L band) – Exfo Inc
Optical Spectrum Analyzer (Ando-AQ6317)
Newport Ultralign precision multi axis positioning system
Polarization controllers
Low temperature cryostat (Janis – Model CCS 150 , 10 – 300K)
Hamamtsu PMT for near infrared detection
Ocean Optics HR 2000 high resolution fiber optic spectrometer (350 – 1000 nm)
Ocean Optics HL 2000 Tungsten Halogen light source (360-2000 nm)
Angle resolved photoluminescence and reflectivity setup
Thermo Nicolet Nexus 870 Fourier transform infrared (FTIR) spectrometer
Shared Departmental Facility
X-ray diffraction
Scanning Electron Microscope
Transmission Electron Microscope
Confocal Raman microscope
Access to Facilities at Brookhaven National Laboratories
Spectroscopic Ellipsometer
Z-Scan measurement
Ultrafast transient absorption spectroscopy
Confocal luminescence imaging set up
Nanofabrication